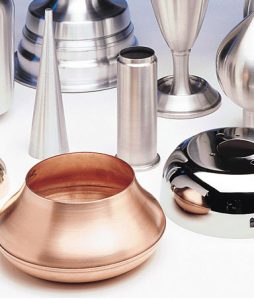 We offer custom metal spinning services – means, we deliver custom metal spun parts at your door – our prices include door delivery, so you will always have comfortable and frank experience in dealing with us.
we offer metal spinning for various industries, different applications and in different metals i.e. Brass, Copper, Aluminum, Steel & Stainless steel and in various shapes and sizes – we can spin upto 42" large diameter and as small as 1/2" spinning part.
we make our own tools, and all are precisely made to offer full accuracy in your parts.
Furthermore, we can do after – operations on spun parts, like piercing, precise holes and shape cuts, and offer you them in different finishes, like chrome plating, nickel, antique or zinc plating etc.
Our platform is very simple, you just either email us or upload your metal spinning drawing on the left side form – you will receive quotation from our executive in 1 business day, developed sample can also be provided, so you can place order after receiving samples.
We are committed on quality and precision – so just upload your any metal spinning part requirement and receive door delivered prices – reduce your hassles and source products, competitively and efficiently.
Feel free to just ask our prices for comparison: email us at: info@mjkmfg.com or upload drawing via left side form.