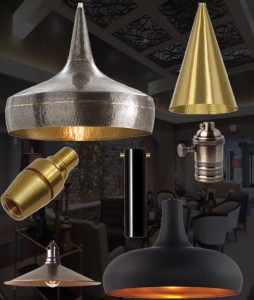 If you are a high end lighting brand in US, Europe or other parts of the world – that need quality parts custom made – than we are no. 1 solution.
We are working with high end lighting brands based in France and New York, USA – we produce their brass lighting parts as per their drawings or samples.
We are equipped with various tooling and CNC machinery – we compete very well with Italian or American parts producers as have same passion towards manufacturing and state of the art machinery – coupled with lower production costs – and we provide items in very high quality and competitively.
we specialize in spinning shades, turned parts, stamped parts, bases, cast or forged, forged brass parts, steel mounting plates etc – for our price quotation on your items – simply upload the file and receive prices quickly.
We'll keep your items / designs – fully exclusive – not showing them anywhere.
You may also ask for our very standard lighting parts catalog but as we more specialize in custom manufacturing and keep items exclusive as well, so if you have any product you need quotation on – you may freely upload the file and you'll receive pricing within few hours.